Mobile Readiness for Work 2018



The Mobile Readiness for Work survey provides the first comprehensive map of the state of mobile readiness among the UK's workforce. It gives an insight into workers in the UK, how they currently use technology and the possible size of the opportunity in using mobile devices and apps to raise workers' productivity.
The research reveals the following key findings:

Device usage for work: 62% of UK workers use a PC (desktop or laptop) for work purposes; 40% use a mobile device (smartphone or tablet); a fifth (21%) don't use a device for work purposes;
Device provision by employers: only 16% of workers in the UK are provided with a smartphone by the organisation they work for;
Analogue inefficiencies: 24% of UK workers still fill out forms on paper; this is most common in healthcare (38%), charity (not-for-profit) (32%), education (31%) and government/public administration (31%);
Mobile apps: The top 5 mobile apps used by workers are: Email: 75%, Calendar: 66%, Instant Messaging Apps (WhatsApp/Facebook Messenger): 60%, Navigation Apps (Google Maps): 57%, Camera: 52%;
BYOapp: Among apps used for work purposes, the majority appear to have been on a "BYOA" (bring your own app) basis, rather than employer recommended apps, or from a company store. This behaviour can introduce risks;
Impact of technology - a worker's view: A large proportion of respondents see a positive outcome from using technology in the workplace across a number of work tasks: 60% of respondents find it easier ("a lot easier" and "somewhat easier") to access information quickly and easily at work because of technology. This is followed by the ability to work more flexibly (49%) and ability to collaborate with colleagues (49%). The level of satisfaction is greatest among younger age groups;
Tech adoption by organisations: 35% of respondents feel their workplace is advanced when it comes to adopting new technologies. This varies significantly by industry with IT and communication leading in the level of agreement with this statement (67%) and Healthcare leading in the level of disagreement with the statement (40%).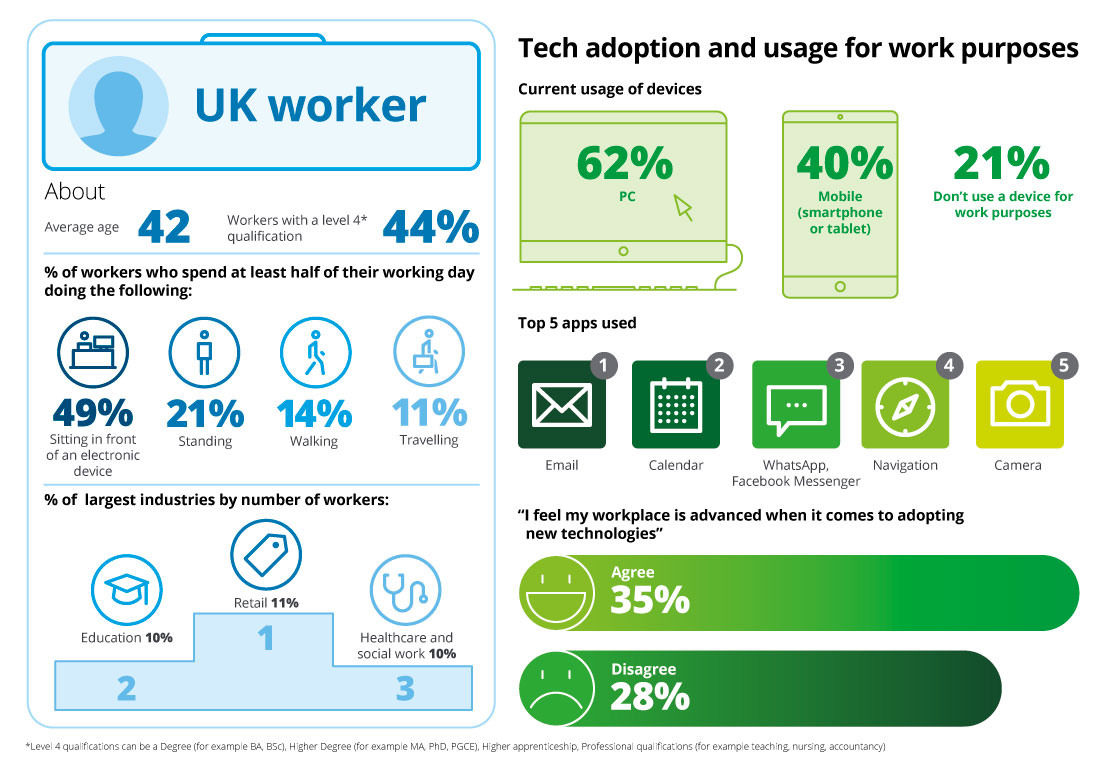 Conclusion
Over the next five years, it is likely that we will see the smartphone become a central part of people's daily working lives. As technology and apps become more sophisticated, employers will respond to these capabilities by making these devices more accessible to their employees. For some, the smartphone will replace more traditional devices such as the laptop, and for others, it will be the first device they use in the workplace.

About the research
A quantitative survey was conducted by Opinium Research on behalf of Deloitte Touche Tohmatsu Limited. Fieldwork occurred between May and June 2018 among 3,369 working age adults, providing the first comprehensive map of the state of mobile readiness among the UK's workforce. The results are weighted to the working population data on age, gender, sector, industry and region.