Top 10 regional UK cities for investment
Edinburgh remains the most attractive city for hotel investment in 2024 for the third consecutive year, while Oxford gained two places to become the second most attractive city in the UK. Meanwhile, Manchester, Bath, Glasgow and Aberdeen all dropped in the ranking compared with last year.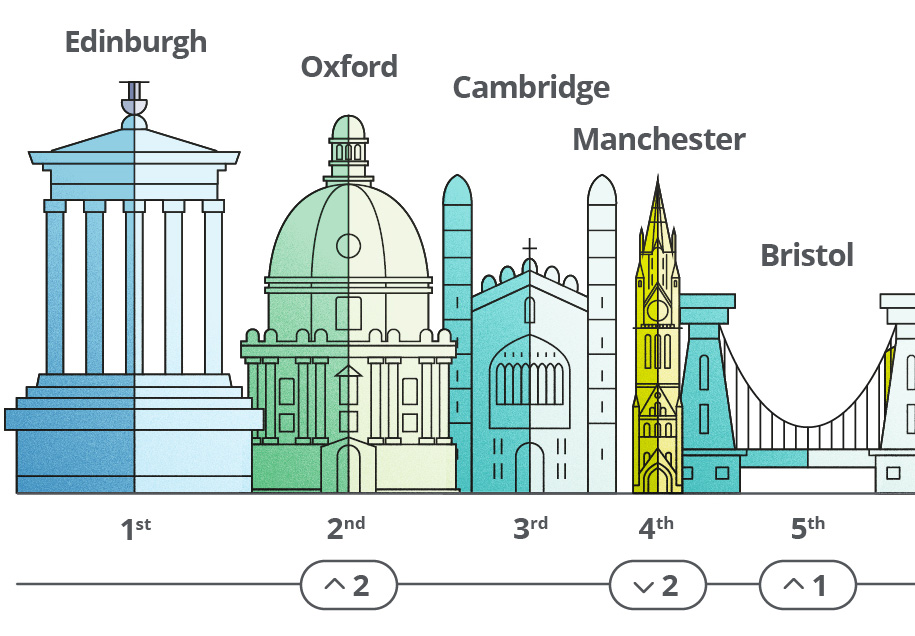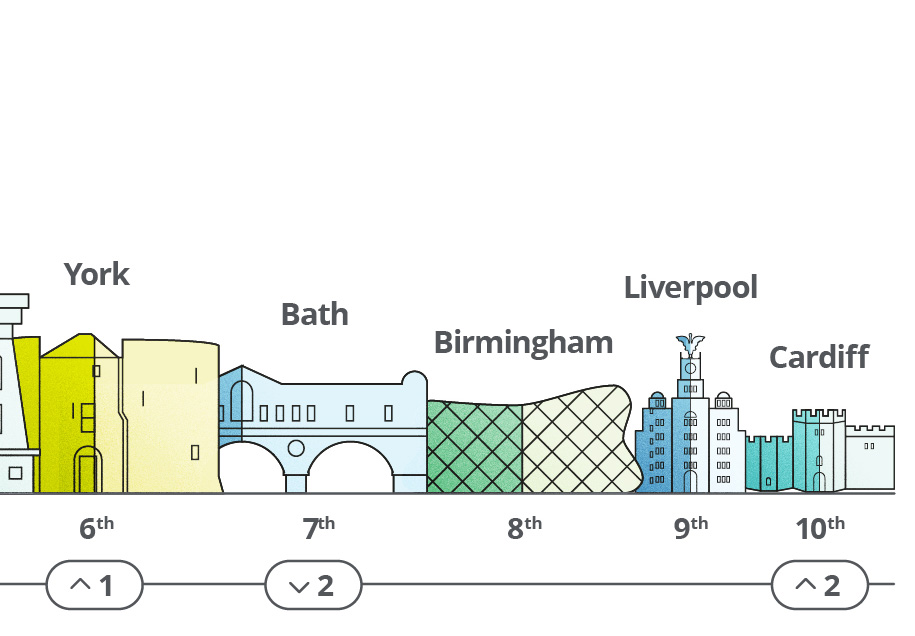 UK investment opportunities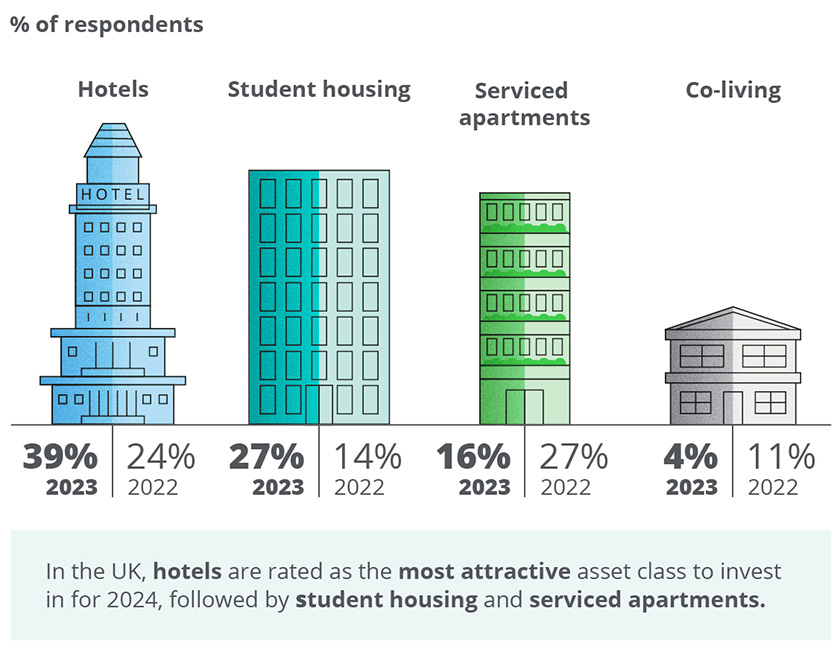 Performance in the UK market
The majority of survey respondents (82%) expect a growth of 1% to 7% in London's Revenue Per Available Room (RevPAR), while 72% of respondents anticipate a RevPAR of 1% to 5% in the regions this year. In a sign of normalisation post COVID, not only the number of undecided respondents is significantly lower this year, the higher RevPaR expectations for the year ahead [over 9%] have fallen compared with previous years.
The lower Gross Operating Profit per Available Room (GOPPAR) expectations for 2024 compared to the last two years are due to the pressures that high inflation, labour shortages and greater energy prices are putting on profits. As a result, over one in four respondents (28%) expect 0% or negative GOPPAR in London in 2024 and close to one in two have equally negative expectations for regional performance over the same period.
Executives were more confident about their EBITDA multiple expectations for 2024, with a lower proportion of respondents undecided this year compared with the same period a year ago. There was a spread of multiples expected across London including over one in three respondents (36%) expecting multiples of more than 15 times. For regional UK, 66% of respondents are expecting multiples between eight to 14 times.
Financing the UK hotel market
Private equity is expected to be the largest source of equity capital for UK hotel acquisitions in 2024 for close to one in three respondents (29%). However, private equity investments have seen a notable decline in recent years in line with lower levels of deals taking place in the sector. As a result, other sources of investment continue to emerge including, family offices expected to be the second major source of equity capital in 2024 at 16%, followed by Sovereign Wealth Funds rising from 6% in last year's survey to 15% this year.
In terms of which regions are likely to invest the most in the UK hotel market in 2024, for close to one in two respondents (48%) investments will come from the UK followed by North America (35%) and Europe (31%). Asia Pacific (excluding China and India) as a source of hotel investment into the UK has improved slightly this year, while the Middle East and North Africa, and China have seen modest declines.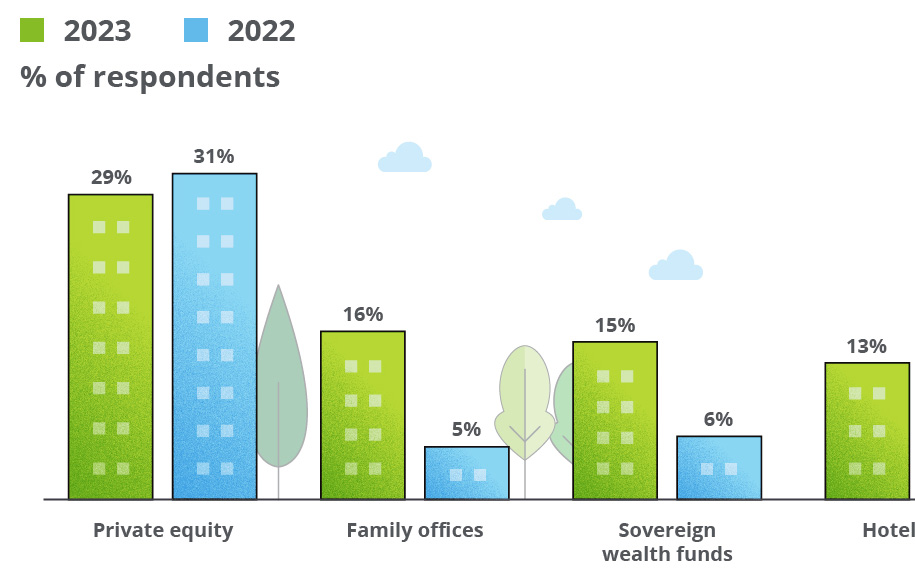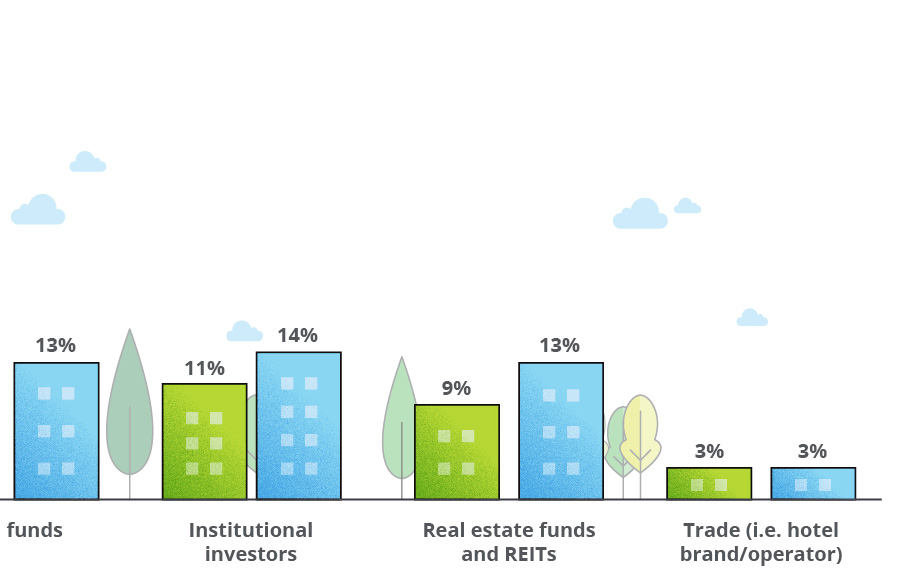 UK outlook
Levels of confidence in the UK hotel market have improved significantly compared with 2022. The proportion of respondents believing profitability will improve in the next five years has nearly doubled this year growing from 38% in 2022 to 64% in 2023. In addition, nearly three quarters of respondents (73%) say they are optimistic about the long-term future of the UK hotel market, compared with 66% in 2022, while 64% agree that investment into the UK will grow materially over the next five years, compared with 48% in 2022.
More respondents are also expecting a faster normalisation in the current UK investment cycle compared to 2022. This year one in four respondents (25%) think the current UK investment cycle will normalise in the next 6-12 months, up from 13% last year. In another sign of growing confidence, the number of respondents who are unsure also decreased significantly from 16% in 2022 to 5% in 2023.